Lesson # 23: Learning the Divination of Palmistry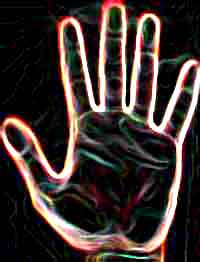 Palmistry is an interesting and ancient form of divination. It has existed since before Greek times and it seems that we as humans have always held a fascination for our hands. It is still a very popular form of divination. I have not practiced this form myself yet but what I have learned and read has been interesting. Here is a list of links for you to explore the world of Palmistry.
Palmistry (requires flash 4 plug-in)
Witchcraft and Magick: Palmistry
Use these links to learn more about how the palmistry works and any other sources that you find in your own searches. Then begin to work with palmistry yourself if this is the form of divination that you would like to become more connected.
Your Assignment
Very simply, it is to practice, practice, and more practice with palmistry. Post in the group about your experiences with the palmistry.
Brightest Blessings,
Arianna Moonlightshadow

---
Class Assignment and Event Schedule
---
---
Email Arianna through Image Link Below
---